Welcome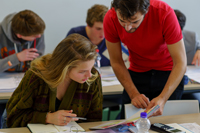 Boswell-Bèta offers access courses and exams for students who want to enter higher education in the Netherlands.
This section of our website is aimed at international students who are required to pass entrance exams as part of the entry requirements of study-tracks at Dutch universities and hogescholen.
For Dutch students, or international students who already understand Dutch, more detailed information is available at the Dutch section of our website.
Contact Information
Address:
Boswell-Bèta
Daltonlaan 400
3584 BK Utrecht, The Netherlands

Information:
Phone: +31 (0)30 4300 100 (Mon-Fri, 10-16h)
E-mail: