Practical information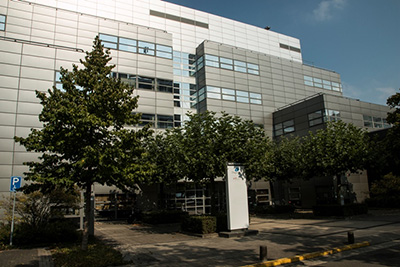 Most courses that Boswell-Bèta offers take place at our course location on the Daltonlaan 400, in Rijnsweerd-Zuid close to the Utrecht Science Park (Uithof).
Contact information
Adress:
Boswell-Bèta
Daltonlaan 400
3584 BK Utrecht

Information:
Phone: 030 4300 100 (Mon - Fri, 10-16h)
E-mail:
Opening Hours

Opening hours are Monday-Thursday from 9:00h to 21:30h. On Friday from 9:00 to 17:00h and on Saturday from 9:30 to 17:30h.

The student desk is open on Monday-Friday from 11:00h to 17:00h.

Phone: +31 (030) 4 300 100
Getting There

The institute is located at the entrance of Utrecht Science Park (De Uithof).

Public Transport:

Take bus line 28 (every 10 min.) from Utrecht Central Station (Busplatform A) to Utrecht Science Park. Get out at bus stop Rijnsweerd-Zuid. The Daltonlaan is opposite the bus stop behind the BCN building.

Travel time from CS is about 15-20 minutes.

All regional bus lines passing Utrecht Science Park also stop at Rijnsweerd-Zuid.

At the end of 2019 the new tram line from Central Station to the Science Park will be opened.
Cafetaria

Opening hourse of the cafetaria:

Mon-Thu 09:30-20:00h
Fri 11:00-16:00h
Sat 9:00-15:00h

Dinner is served until approx. 19:00h and costs 6-7 euro.

During the holidays and during weeks without teaching the cafetaria is open at limited hours.
Parking

Free parking is available at the Daltonlaan.
WiFi-settings

There are several wifi-networks available.

Boswell-Beta Secure: the staff network.
Boswell-Beta Gast: guest access for students (password available in the cafetaria)
Terms and Conditions and Exam Regulations